News Feed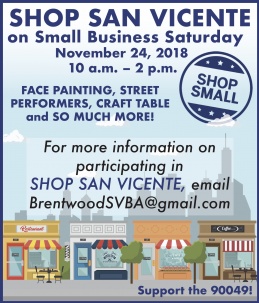 November 20, 2018
Small Business Saturday is an American shopping holiday held on the Saturday after Thanksgiving. It was first observed in 2010. The San Vicente Business Association is working to organizing the inaugural Shop San Vicente this year! SVBA is organizing Shop San Vicente in an effort to support local shops and restaurants that make our Brentwood community strong.

October 10, 2018
During the holiday season, the number of delivered package thefts skyrocket. Thieves literally follow the UPS and Fed Ex trucks throughout the neighborhood and scoop up the delivered packages right off front porches. It's a very, VERY, common crime, especially this time of year, and it's time to consider changing your online shopping practices to prevent becoming a victim.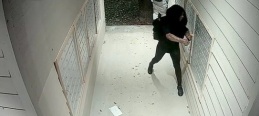 October 09, 2018
The United States Postal Inspection Service was formed in 1774 and is the oldest law enforcement agency in the country. The inspectors are special agents, similar to FBI. Mail theft is a Federal crime and cases go to the US attorney's office. Here are some precautions to help keep your mail safe ...