(Click News Story Title For Full Story)
News Feed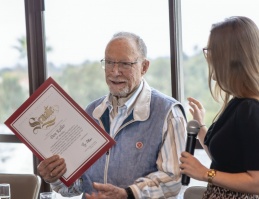 Happy 90th Don!
February 21, 2020
BHA Board Member Don Keller celebrated his 90th birthday with accolades from City and State leaders. Don has served our community for four decades and helps us fight for what's right! He has lived atop Kenter Canyon with his wife Joyce longer than 98% of current Brentwood residents and still takes time each day to give back to the neighborhood he loves. If you see him around, please say hi and HAPPY BIRTHDAY!

Solar Power Is Here
January 19, 2020
All new homes in California now require solar panels. Some homeowners who are interested in energy independence have opted for battery power storage as well, which can be an advantage when there are issues with the power grid. With both solar and battery backup, you are not subject to intermittent outages and you can still have power in an earthquake.

December 20, 2019
A BHA board member was able to provide a license number from a home security camera that helped in the capture and arrest of the perpetrator who tagged a bunch of vehicles around Brentwood! Detectives are still investigating the crimes and others were involved. The tagger in one instance caught on camera did not leave his vehicle, but pulled up next to the victim's car and spray painted from his driver's side window.